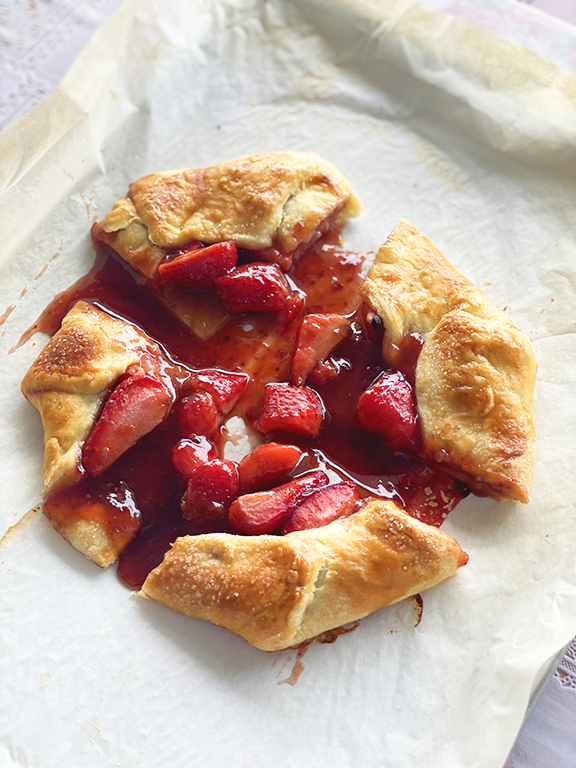 In Singapore, Galette is not something you come across frequently in bakeries and cafes. To many, this word sounds like a fancy-ass Parisian pastry. Let me tell you, this is actually no "atas" ( Singlish form of Expensive) delicacy, in fact its one of the easiest and most flexible bake you should try during this work-from-home (WFH)/time-to-slack-a-little period of time.
Galette in French by definition is basically a flat cake made from short crust dough and filled with sweet or savoury filling. It is the freeform child of your crusty cake and pie combined full with almost whatever ingredient you can think of = time to clear your fridge!
Why Galette is now my favourite pastry to bake: NO baking mould needed, FLEXIBLE ingredients, PERFECT for any occasion!
The pie dough making will take some time however, if you can get your hands on instant ready pie dough ( cold storage, redmart) you should bake this everyday - add strawberries, orange, ham & cheese, mushrooms etc. I cannot emphasise more on how amazing this is.
By the way, as per usual, Strawberry Galette came from my intention to clear the excess strawberry jam in my fridge. I looked into a few videos and recipes and did my own twist to the typical fruit galette.
For the pie dough recipe, I took it from ButtermilkPantry as I love her therapeutic video guide. However even if you do not get that buttery layered finish, do not get disheartened! You will still get a flavourful chew and crispy pie crust, this can be expected due to Singapore's humid weather where butter melts really fast if you are not doing the dough folding in an air-conditioned room.
For the general strawberry recipe, I referred to halfbakedharvest and bonappetit for inspiration.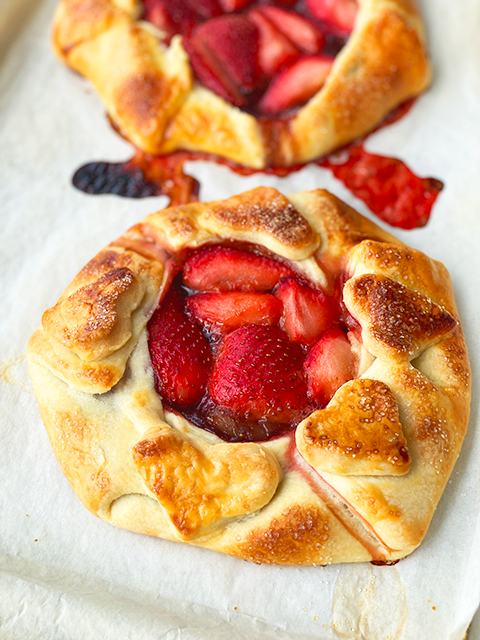 Ingredients:
(2 med size galette - fit in 1 tray)
Dough
125g all purpose flour
1tsp sugar
3/4 tsp salt
112.5g cold unsalted butter, cut into small-Med size cubes
50g ice cold water + 1/2 tbsp apple vinegar (white vinegar)

Filling
120g strawberry jam
10 frozen strawberries cut into halves
1 slice of lemon
3 tbsp sugar

Coating
1 beaten egg
1 tbsp sugar

Instructions:
Pastry Dough

1. Mix the water and vinegar and put it in the fridge till needed.
2. In a bowl, sift in the flour, salt and sugar. Stir it till combined.
3. Add in the butter cubes into the flour mixture. (Highly recommended to do this in an air-conditioned location or do it real fast with cold hands - prep a bowl of cold water at the side)
4. Press and mix the butter with the flour using your fingertips till you get this crumby mixture ( don't overdo it! As we still want the butter to be intact)
5. With one hand, add in the water and vinegar mixture bit by bit and mix the dough with the other. You may not need all the water hence do this continuously till you get a partially sticky but still in pieces dough.
6. Put the dough on a large surface area with scattered flour ( to prevent the dough from sticking onto the surface), with some flour in your hand, start using the base of your palm to knead/spread out the dough while pressing it all together.
7. Stack the dough up and knead it flat once more.
8. Do this 3-4 times to get the layers of dough (do it fast and with cold hands!)
9. Gather the dough, cling warp it and place it in the freezer to chill for 1 hour (if using immediately) if not you can keep it overnight and defrost for 15-30 mins before using)

Making the Galette

10.  Lightly flour the working surface/baking paper and place the dough. Lightly flour the surface of the dough, your hands and the rolling pin.
11. Roll the dough till round and flat about 3mm thick. I use a serving plate (10.5") to size the dough, use a knife and cut around the edge.
12. Gather the remaining dough and do the same to create two equal size galette base. You can cut cute shapes (e.g. heart) with the left-over dough to decorate the galette edges later.
13. Place the bases on a tray and put them in the fridge first.
14. In a bowl, add the strawberries and sugar, add a squeeze of lemon and give it all a good stir till well-mixed.
15. Take out the galette base, spread 60g of jam in the centre of each (leaving about a 1-1.5" border).You can adjust the quantity of jam to your liking. Scatter the sugared strawberries over the jam spread.
16. Use the beaten egg to brush the border of the pastry. Then lift the edges and fold towards the centre in the same direction, overlap as you go. ( like wrapping a dumpling!) press around the edges and folds to secure the shape. You can add the additional cute shapes around the border if you like.
17. Use the remaining egg wash to brush the top surface of the galette border and sprinkle sugar over.
18. Refrigerate the galette for 15-30mins while you preheat the oven to 200 °C.
19. Bake for 25-30 mins till golden and bubbly.
20. Let it cool on the tray for 5-10 mins before serving ( you can add icing sugar or vanilla ice cream to better the visual experience)
You can check out my instagram below for more video snippets and latest updates!