Oreo Cream Cheese Brownie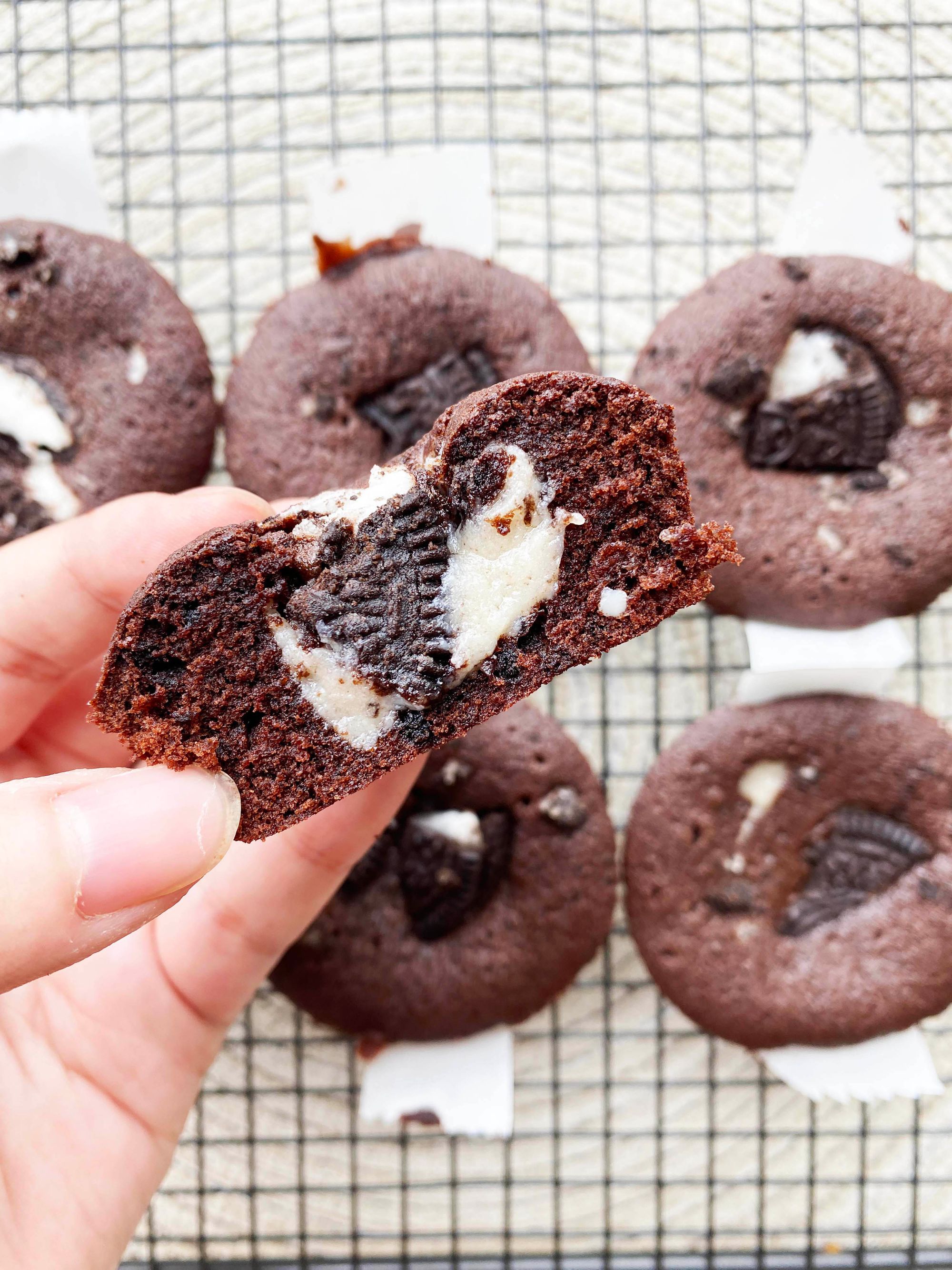 This is a random recipe that I created along the baking process. I am super surprised that it turned out amazing! I always try to bake within the shortest time possible to achieve the best possible results: high success rate, flavourful, and the top of it all: aesthetically pleasing = gift-giving worthy.
Background Story
It started with my interest in buttermilkpantry's brownie recipe which is inspired by the trendy insane fudgy brownies from BUNDT by The Backyard Bakers in Singapore. However, I realized i was missing dark cocoa powder which is expensive and hard to find in Singapore ( baking supplies war due to COVID-19 quarantine). Then I remembered I won 7 eleven vouchers from dorisgoz and that is where I found the solution: $1 OREO PROMOTION.
Hence I embarked on my usual youtube journey - I referenced the brownie methodology from buttermilkpantry's video and inspired by So Yummy's 10 easy tricks to transform oreo to create my very own recipe - for all oreo + chocolate + cheese lovers!
Texture and Flavour
I will describe my oreo cream cheese brownie as a half-half, it has the lightness of a sponge cake yet soaked with the fudgy and chocolatey flavor of a brownie. I love how the richness remains but not the sticky-ness from your usual thick intense brownie. To add it up a notch, I always know how melty or additional filling adds "brownie points" to most of the pastries and bakes. Hence, I got an idea to fill the insides with cream made from oreo creme and cream cheese to create that additional milky sweetness that blends perfectly in a bite with the soft oreo-chocolate outsides.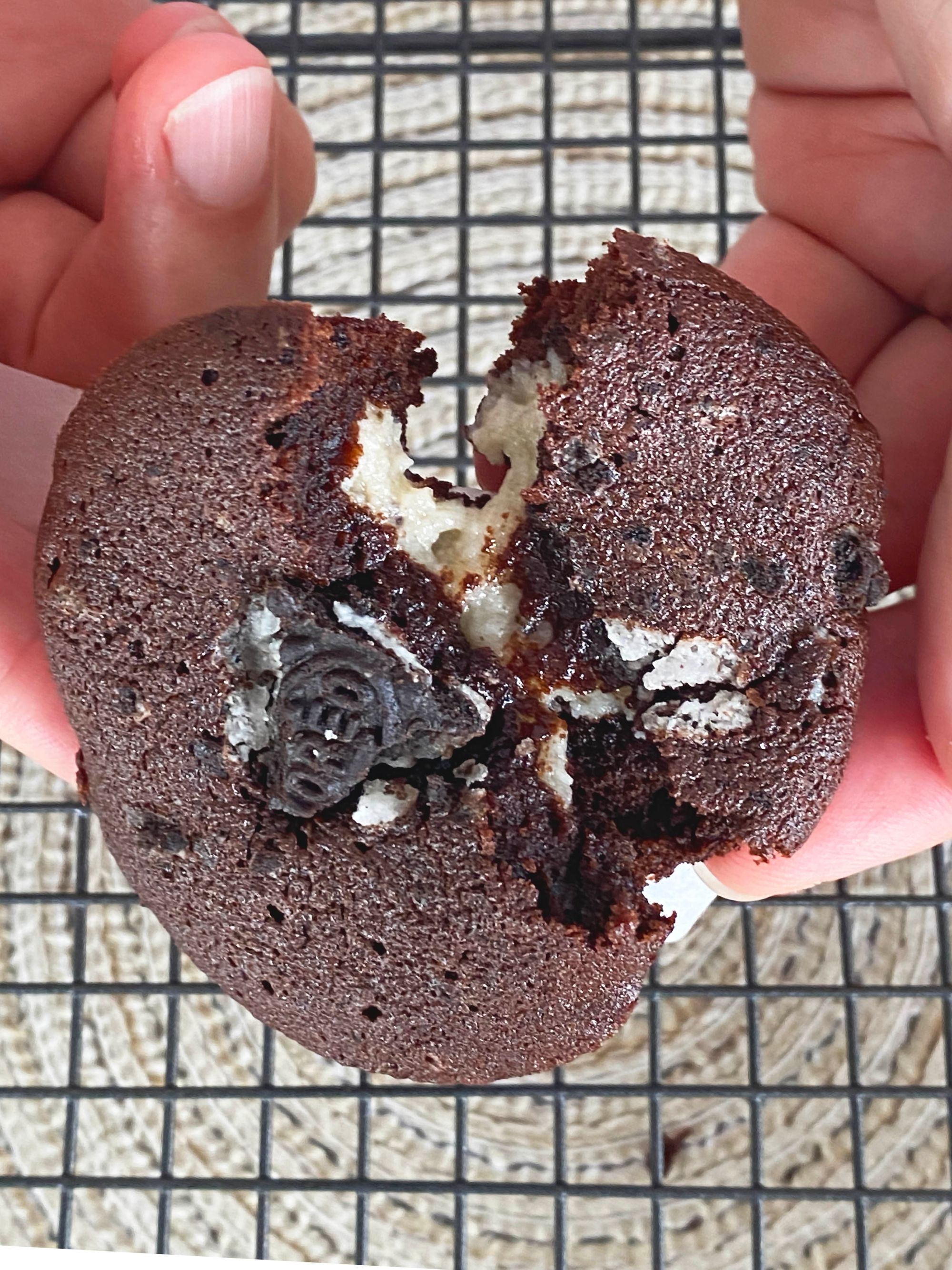 Recipe
Ingredients:
(Fills up 6 slots muffin pan)
Brownie Batter
65g unsalted butter, melted
70g white granulated sugar
1/4 tsp salt
1 large egg, room temp
1 tsp vanilla extract
30g cocoa powder
40g grinded oreo biscuits (dark)
1/2 tsp espresso powder (optional)
1/8tsp baking powder
12g water, room temperature
25g ap flour
Cream filling
(estimated based on 1 tsp per brownie)
50g cream cheese
30g oreo white
1 tsp sugar
Decorative
1 Oreo break into shattered pieces
Bake at 180 °C for 10 mins
Instructions:
Preheat oven to 180 °C
Brush some softened butter or oil on your baking pan, line each cup with a strip of baking paper for easy extraction later.
Separate the oreo cream from the oreo biscuits ( I used a packet roll of Oreo sandwich biscuits - 16 inside)
Melt the butter in a pot at low heat.
In a mixing bowl, add the melted butter, sugar, salt, and whisk them till combined.
Add the cocoa powder and ground oreo biscuits, espresso powder mix all till combined and smooth.
Add the egg and vanilla extract and mix all well combined.
Add the water and mix.
Sift in the flour and whisk them till evenly mixed and creamy.
Time to make the cream cheese filling by mixing the cream cheese, Oreo white cream, and sugar together. Mix till combined ( the oreo white disappears)
Fill the muffin slots with the dark batter till slightly more than quarter-filled.
Use a spoon to form a dent in the center of the batter layer and put 1 tsp of cream cheese filling. Do the same for all the slots. You can add more (there will be extras)
Use the remaining batter to cover up the filling and fill the slots up to 3/4, top it all with shattered Oreos.
Bake for 180 °C for 10 mins.
It should puff up on the top, take out the pan and let it cool for 5 mins before extracting the brownies.
Enjoy it slightly warm to get the creamy inside. You can store them in the fridge to be consumed another day but highly recommended to give it heat up of 3-5 mins.
Do give this recipe a try! I twerked and created it to achieve my personal goals: not too sugary sweet, rich in flavour, efficient use of ingredients, aesthetically pleasing ( i am unapologetic to admit that it is for the gram opps).
Let me know through instagram if there is any questions or feedback. Do give me a follow for the latest foodie news and recipe updates!
Recipe Video
Specially for this recipe and from my usual procrastination from necessary work in life - I did my first and simple youtube recipe video! ( do not compare with professionals and established videos please sobs), i did my best to get the message across, hope it helps!
*** signing off with sparkles ***