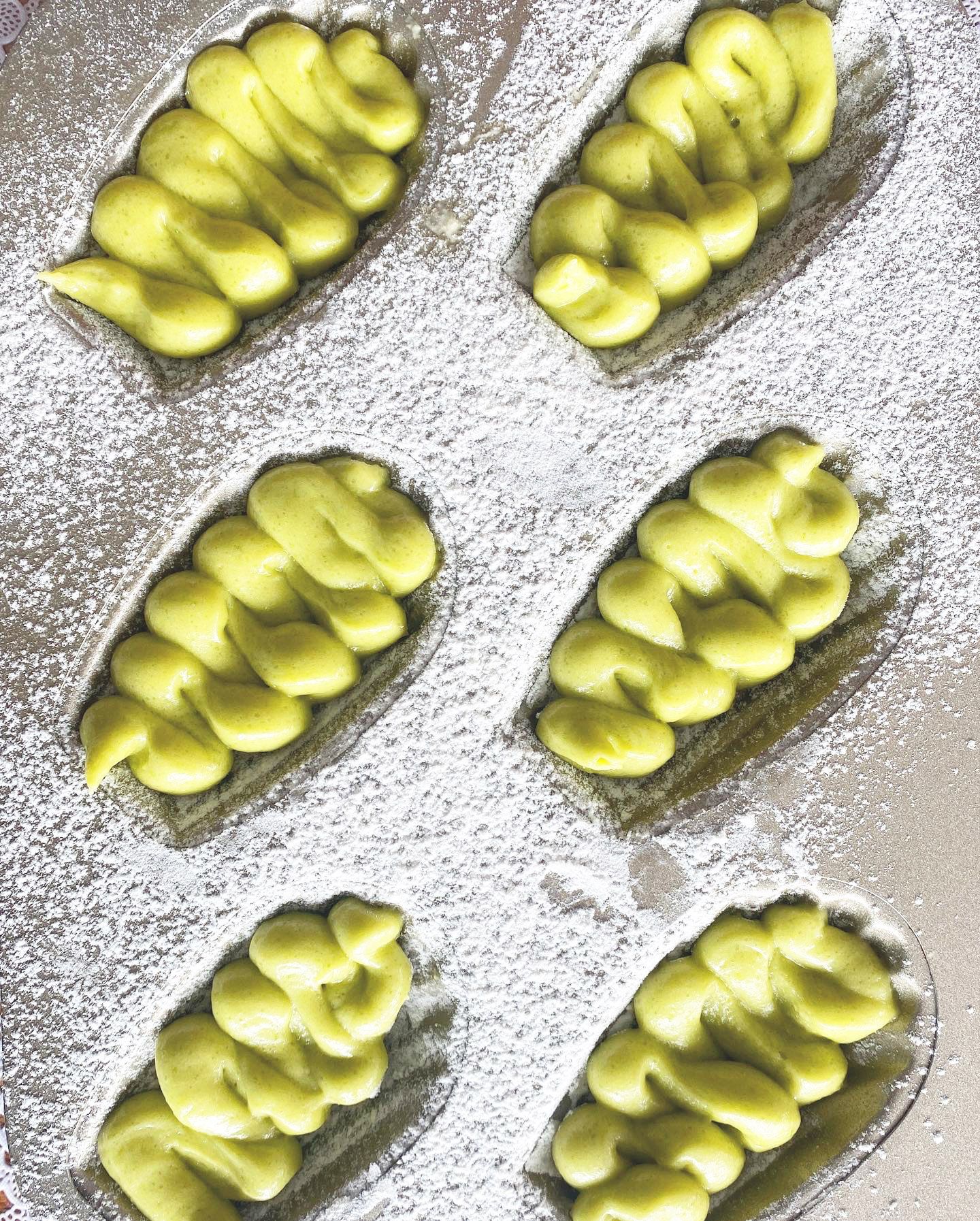 Madeleine is a traditional small soft sponge cake that works perfectly as a teatime snack. It is one of the easiest baking recipe, similar to cookies. It is more about investing in the beautiful seashells baking pan and you on more than halfway on track to make an infinite supply of this classy "atas" pastry at 1/4 of the selling price.
Taking this COVID-19 Circuit Breaker opportunity, I finally succumb and got myself a madeleine pan from Taobao. What I love about Madeleines is that it suits all kinds of flavours and can be morphed into creative forms! There is a huge range of decorative options that can be explored on this tiny lovely dessert bite (definitely look out for more future posts on these!) For my first madeleine, I wanted to do Matcha Green Tea flavour but I did not want to invest in Matcha powder yet ( it can be pricey!), hence I used instant Matcha Latte Powder instead which turned out beautifully as well! It gave a light pastel green colour with the taste of milky matcha. Super Addictive! Best of all, you just need 1 - 1 1/2 hours, or prepare it the night before and just need 10mins to bake them the next day - Better than cookies (oops).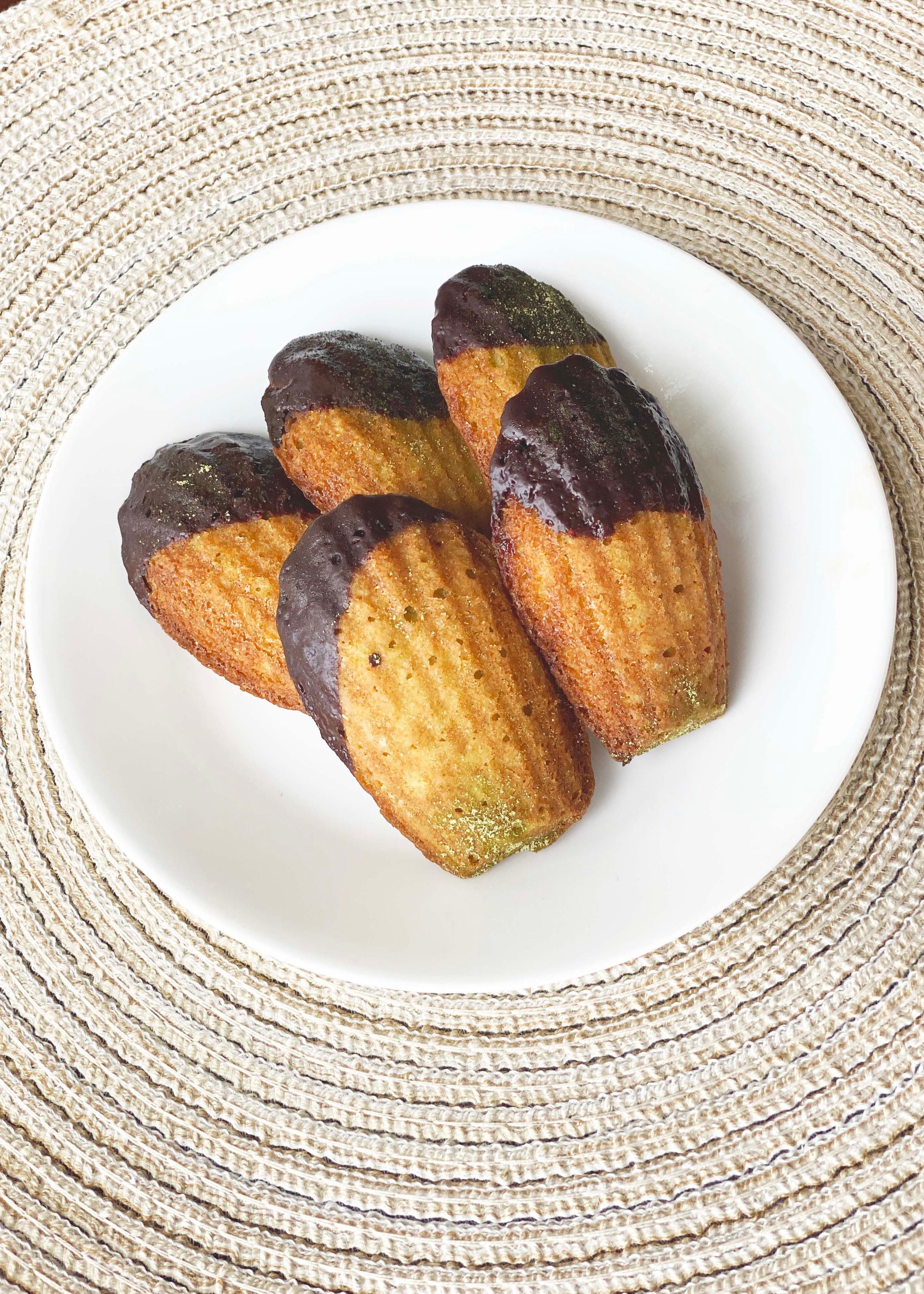 Matcha Latte Madeleine Recipe

Ingredients:
(8 Madeleines - 1 tray and some extra)
50g unsalted butter
50g sugar
40g all-purpose flour (plain flour)
1 pinch of salt
1/2 tsp baking powder
6g / 1 packet of instant matcha latte
1 egg (at room temperature)
5g whipping cream or 1/2 tbsp of milk
(Optional)
Icing sugar for dusting
Matcha powder for dusting
Milk/Dark Chocolate for coating
Bake at 190 °C for 10 mins
Instructions:
Melt the butter at low heat, when half is melted, remove it from the stove for it to melt on its own, keep stirring throughout to prevent fat and oil separation or burning the butter. Let it cool at the side.
In a medium-size bowl add the egg and milk, whisk it till frothy.
In a large mixing bowl, sift in the flour, baking powder, salt, sugar and matcha latte powder, stir/whisk all till combined.
Add in the egg mixture while stirring till you get an even batter.
Add in the melted butter bit by bit and mix well till blended into a paste. Do not over mix.
Transfer the paste-like batter into a piping bag/plastic sandwich bag and refrigerate it for 1 hour at least. You can do this overnight as well. (make sure it's sealed airtight with a clip or an additional ziplock bag)
Preheat the oven to 190 °C
Prepare the Madeleine pan by coating it with oil/butter, using a mesh strainer finely dust flour over the mould.
Take out the batter and fill each mould in a zigzag manner to ensure even distribution. U can also use 1 tbsp as a measurement for each mould.
Bake at 190 °C for 10 mins till it turns golden brown at the edges (gauge the time according to your oven)
Let the madeleines cool in the pan for 3-5 mins before extracting then with a fork or better: a toothpick, transfer them onto a cooling rack for another 15 mins.
The madeleines are best eaten warm and within a few hours after bake for that crispy crunch if not you still get a soft spongey dessert the next day.
Recipe Video
You can also refer to my IGTV !
Instagram
Follow my instagram for the latest food and recipes updates!
Enjoy Baking!
*** Signing off with sparkles ***