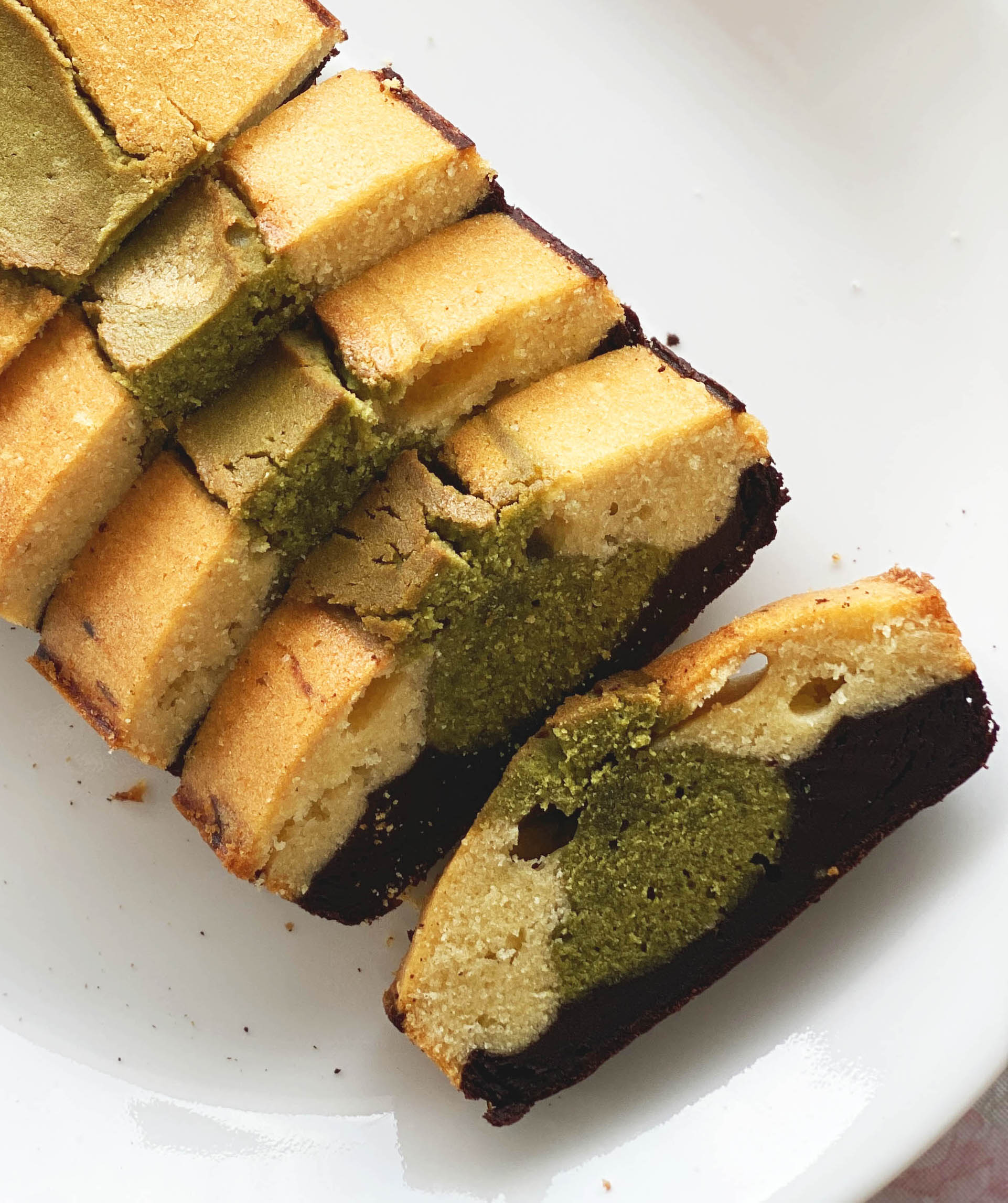 Butter pound cake is a moist and buttery bake that requires little skill and attention to baking technicalities. It is a highly recommended bake to go to for your first baking adventure or a fool-proof homemade cake for a special occasion.
However, who doesn't like to make something special? So here is a not-your-usual pound cake idea! have you seen those beautiful layered/detailed/cartoon cross-section cakes and dreamed of making them yourself? or how did they do it? or "I want it, but can't it be cheaper (oops)." This is your beginner recipe into aesthetic baking with little to no baking experience/skills.
Matcha Fuji Cake (self-named) is a combination of the original buttery fragrant pound cake with a layer of chocolate delight and the cherry-on-the-top peak of matcha green tea. What is better than marrying classic goodness with sweet trends!
Calling out to all new bakers born from Circuit Breaker Singapore or Covid-19 Quarantine, why not push yourselves a bit (like me!) and try your hands on making some cafe-worthy bakes! Trust me when i said you can do it!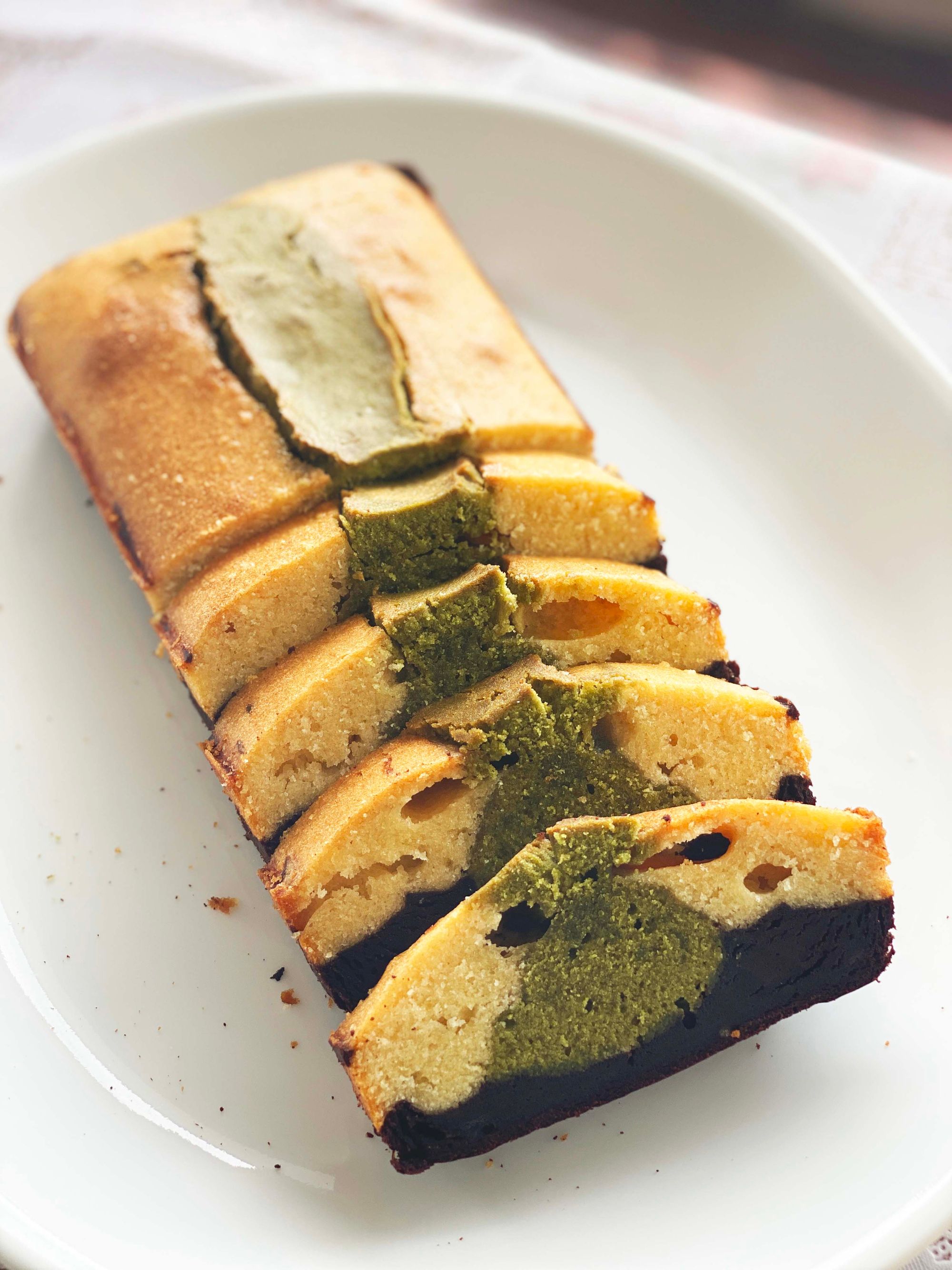 Recipe
Ingredients
Pan size 21cm x 6cm x8cm
60g sugar  
1/2 tsp salt  
150g All purpose flour  
1/2tsp baking powder  
125g unsalted butter  
2 whole egg
40ml fresh milk  
1tsp vanilla extract  
50g cocoa powder  
3 tbsp Fresh milk
2 + 1/2 tsp (richer) green tea powder  
bake at 160°C / 320°F  for 40-45 minutes
Instructions
Add and sift the salt, flour and baking powder into a bowl
Use a mixer and blend the butter and sugar into a creamy paste
Add into the flour mixture and mix it at medium speed
Add the milk, vanilla essence and eggs together and stir well.
Add the milk mixture into the flour mixture and mix it at medium speed till creamy with peaks.
Preheat the oven to 160°C / 320°F
While doing so, prepare the chocolate paste - add milk to the cocoa powder and mix till paste-like.
Separate the creamy dough into 3 portions - add one portion to the chocolate and another to the green tea powder. Mix all well till even.
Spread the chocolate dough at the base evenly.
Prep the green tea dough and original dough into piping bags ( you can use plastic sandwich bags, cut a slit at the corner end).
Firstly, pipe the green tea dough along the length of the pan to form a triangular prism, use the spatula to flatten the sides.
Secondly, pipe the original dough to fill up the remaining gap at the sides (inverse space) do pipe it along the slant edge of the green tea dough.
Use the spatula to even up the top. Lightly hit the pan on the surface reduce the air space inside the mixture.
Bake it for 40-45 mins. Test it with a stick to make sure the inside is cooked ( nothing should stick to the stick and it should be dry)
This recipe is adapted from withapron's youtube video.
Do check out my instagram for more latest updates and highlights on recipe video snippets! Have fun baking!
*** Signing off with sparkles ***