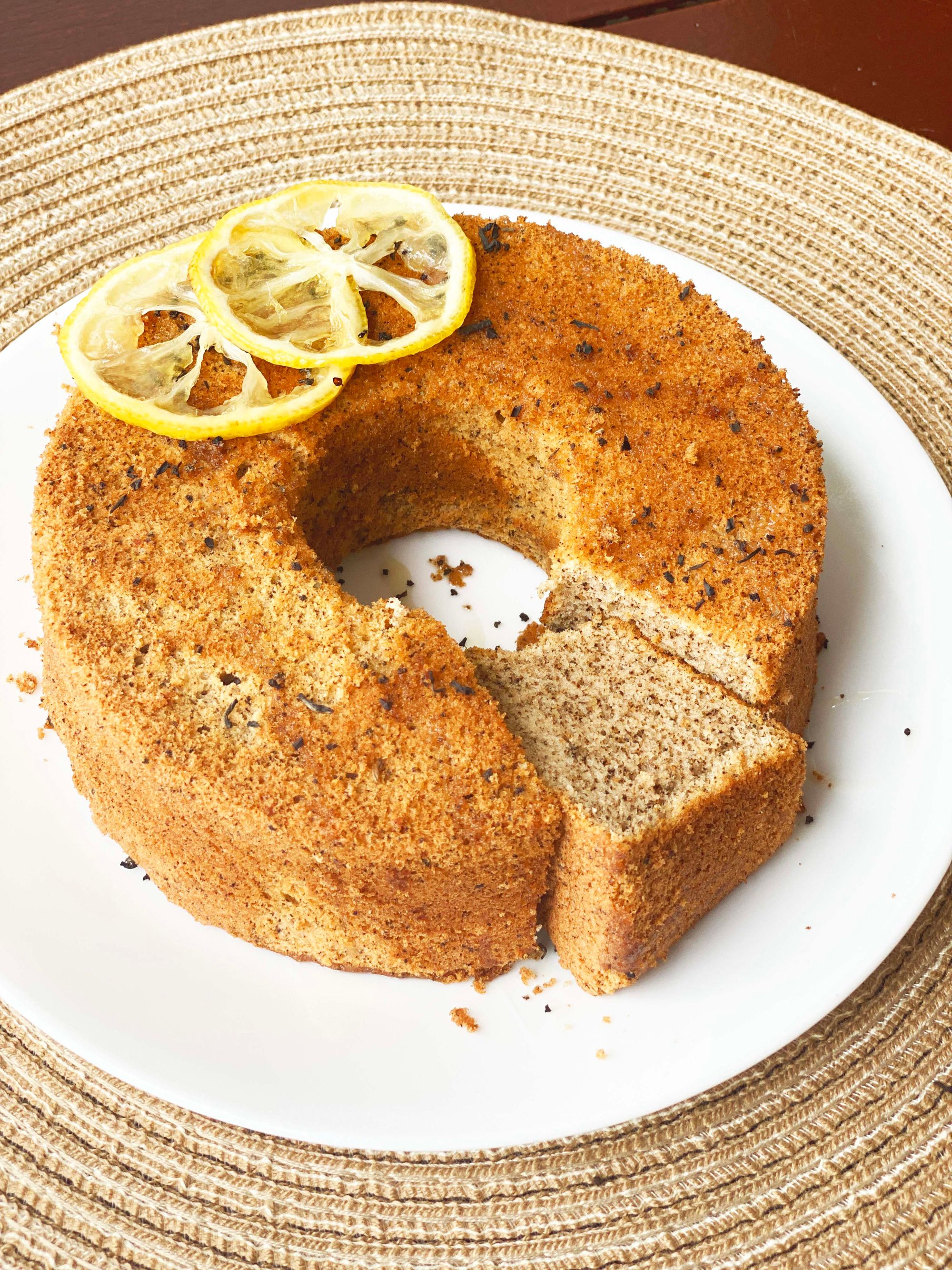 There are a few popular drinks to order in the Hawker centers in Singapore: Kopi O/C, Teh O/C, and for non-caffeine peeps: Ice Lemon Tea! I was having a craving for it one hot afternoon and thought "why not make (Ice) Lemon Tea Chiffon Cake?" since it just takes an hour to 1 1/2 hour max.
To all of you, here is a spoiler revelation after you bake your first successful chiffon cake - it's repetitive and will bake it again in all different flavors possible. To some or most of you, you will think twice before paying for a chiffon cake (oops).
Chiffon cake must be soft and fluffy. What makes it perfect and a successful bake are the following elements: even-sized air pockets/no big holes, no dense layer at the bottom, rise to the top of the pan within caving inwards, and of course - light, fine and flavourful.
I used T2 Tea's Morning Sunshine which is a mix of black tea - Assam, Darjeeling, and Rwandan estate black teas (Disclaimer: I am not sponsored, I got it on a 50% discount in-store which is why I need to clear it because it is expiring oops). I attribute the fragrance and perfect bronze-brown finish to the tea as it is quite a potent black tea mixture.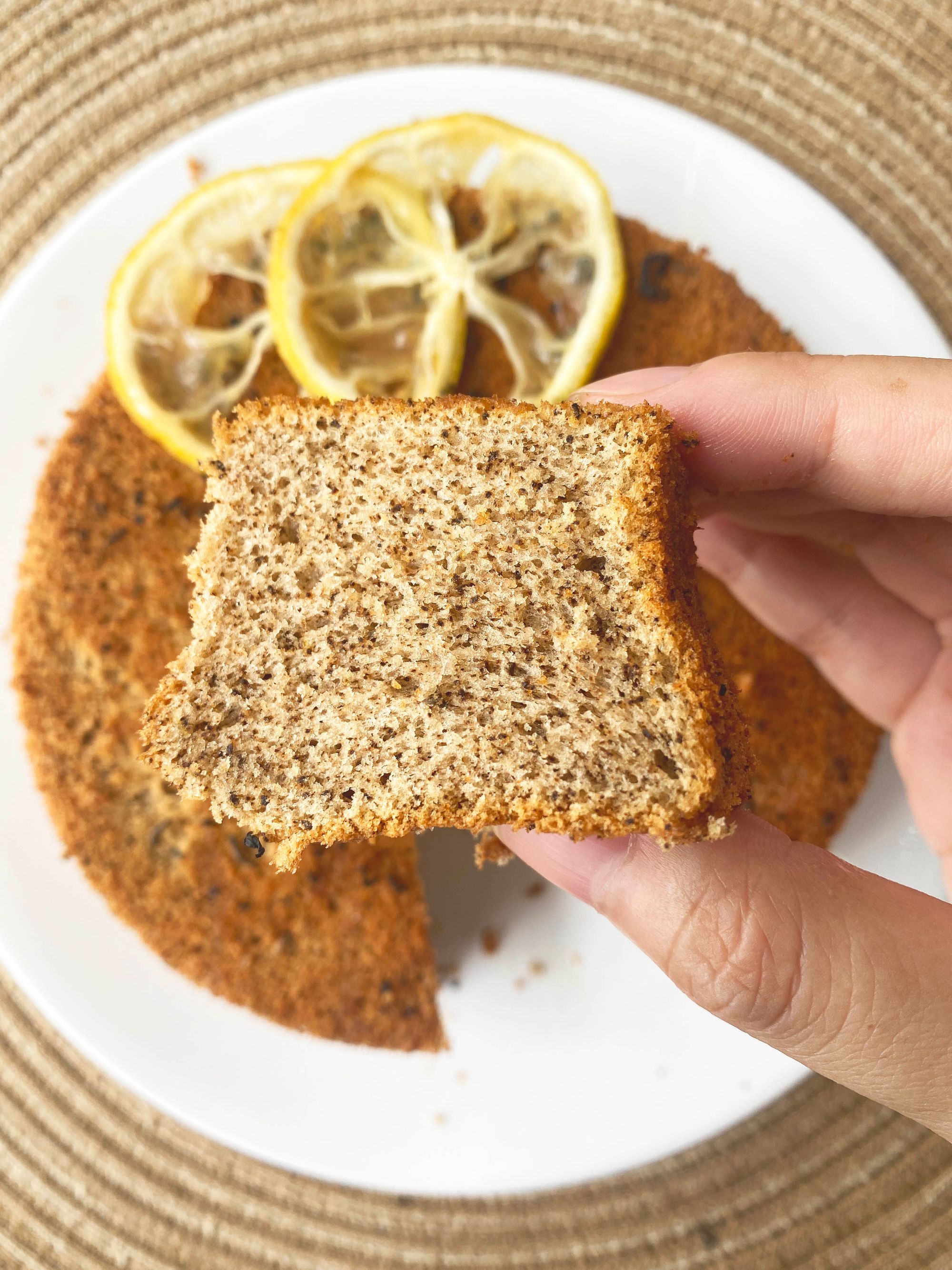 Lemon Tea Chiffon Cake Recipe
Ingredients:
(15cm/ 6 inch chiffon cake pan - NOT non-stick)
1 tsp Black tea loose leaves
1/2 tbsp Black tea loose leaves
1/2 tsp lemon juice or a small slice of lemon
50ml milk
2 eggs
50g granulated sugar
2 tsp sugar
30ml vegetable oil
45g all purpose flour + 5g corn starch/ 50g cake flour
1/2 tsp baking powder
1 tsp vanilla extract/essence

(Optional)
2 tsp lemon slices
2 tsp sugar
Bake at 170 °C for 25-30 mins
Instructions:
Preheat the oven to 170 °C
Use a food processor or a mortar and pestle to grind 1 tsp of black tea leaves or put the leaves in a plastic bag and pound it down with a heavy item (dinosaur style)
Warm the milk over low heat. Add in 1/2 tbsp of black tea leaves. Stir till cool before adding 1/2 tsp of lemon juice or a small slice of lemon. Stir and filter out the milk lemon tea liquid.
Separate the 2 eggs into whites and yolks in two different mixing bowl.
Whisk the egg york with 50g sugar, add in the oil, vanilla, and tea liquid, mix as you add each ingredient till evenly combined.
Add in the powdered tea leaves, sift in the all-purpose flour, cornflour/cornstarch, baking powder, and whisk all combined till there are no lumps.
Using a hand mixer/stand mixer to whip the egg whites at medium speed, slowly add 1 tsp of sugar following by another till you get stiff peaks (you will see ripples and the fluff volume is almost double of its original condition)
Use a spatula and fold in the egg white into the batter bit by bit and fold the mixture till even and smooth. (do not take too long and press too hard as you want to keep the fluffiness as much as possible - refer to my Instagram highlights to see the folding method)
Pour the batter into the chiffon cake pan, drop the pan a few times onto the tabletop to remove air pockets in the batter.
Bake 170 °C for 25-30 mins, use another tray to block the top heat or an aluminum foil towards the end of your cake is getting too darkly colored/burnt. (A stick inserted and comes out clean means it's done)
Cool the cake upside down for a while on a cooking rack (prevent it from sinking more) before extracting the cake by running a sharp knife around the edge.
You can top the chiffon cake with powder sugar or my toaster sugar lemon slices (cont'd below), scattered a few loose leaves and you got an irresistible lemon tea chiffon cake!
Optional: Toaster Sugar Lemon Slices ( disclaimer: this is my personal cheat way of the hours long candied lemon slices, this is decorative)
On a dish, coat the lemon slices with sugar on both sides
put it in the toaster for 10-15mins till the sugar melts and the lemon turn slightly toasted.
Top the chiffon cake with the lemon slices!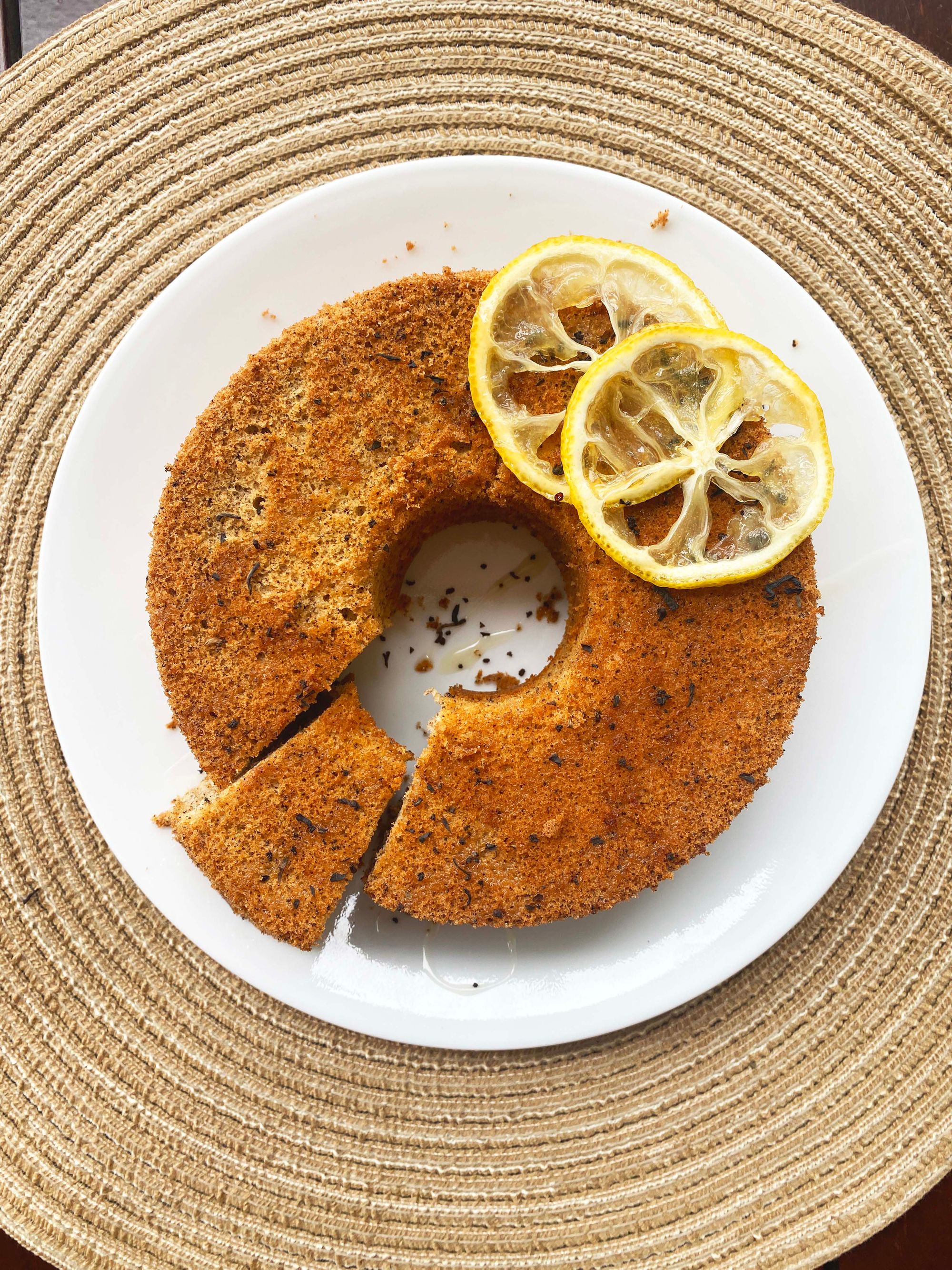 Additional Tips and Explanations:
A dear friend of mine tested the recipe and pointed out some reader's perspective about the recipe and questions ( as well as some mistakes on my Instagram post so do refer to the above! oops.)
Ingredients replacement options:
Cake flour | all-purpose flour + cornflour/corn starch note: there is common confusion about cornflour/corn starch due to packaging, to make things simple: go for the pure white one.
Loose tea leaves or 2 tea bags ( use 1/2 tea bag as powdered tea leaves)
Vanilla essence (add slightly more if you like) | vanilla extract
Do check your Chiffon Pan and make sure that to calculate the measurement of ingredients needed according to ratio - the above recipe is based on 15cm/6" inch size.
It also must not be non-stick pan, do not grease the mold as well because the cake needs to cling to the sides and center of the pan for support as it rises.
I took reference from basic chiffon cake guides - justonecookbook and adapted the milk technique for earl grey chiffon cake - honeybeesweets, sumopocky video.
Do check out my Instagram for more video snippets and latest updates!
I hope this recipe tickles your curiosity, add this into your baking list! I promise it is very doable and rewarding. Stay safe and happy everyone.
*** Signing off with sparkles ***