Brown Butter Miso Chocolate Cookies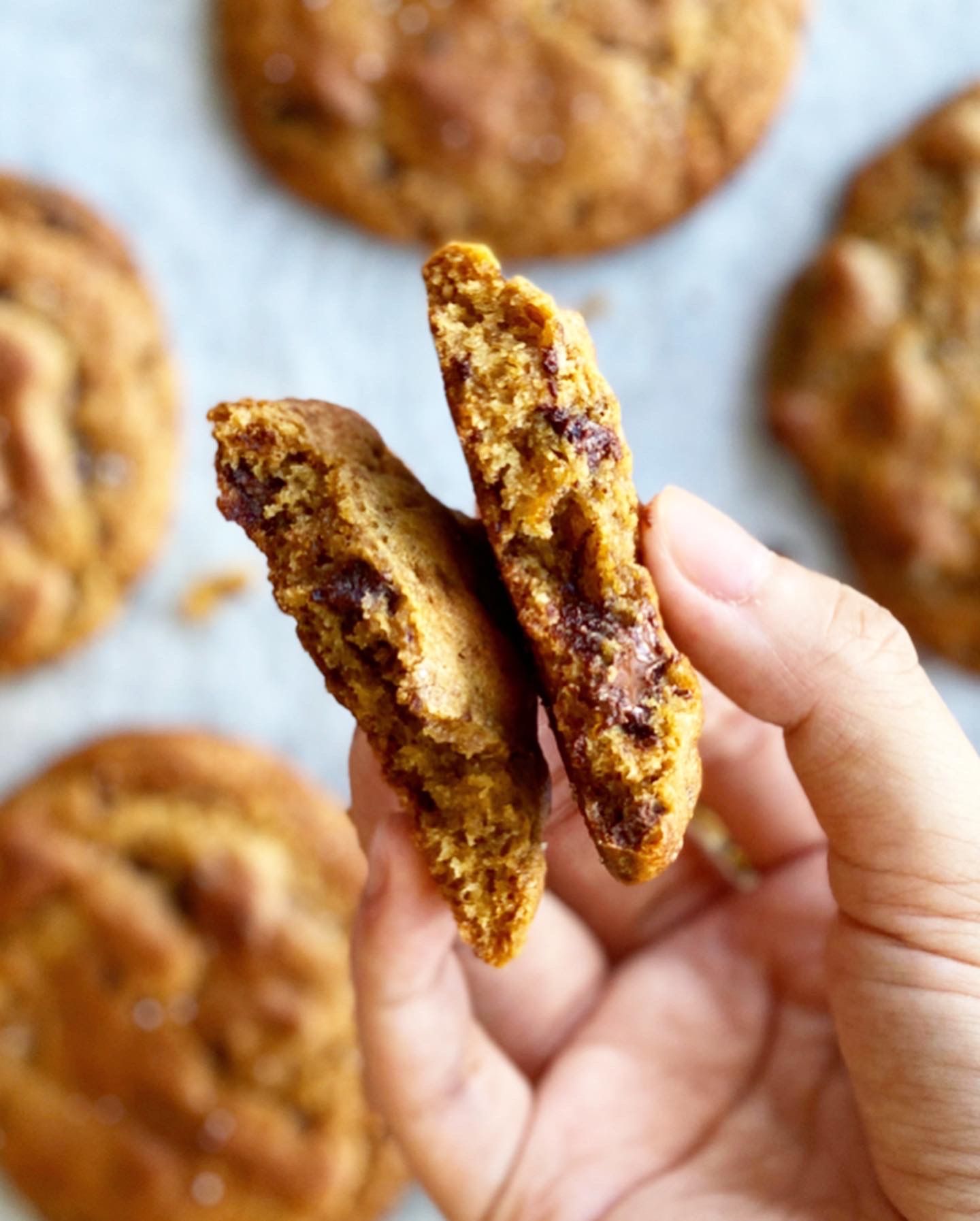 You just need to google to find out that everyone is self-proclaiming their chocolate chip cookie recipe to be the best/perfect/top/ideal/absolute one on the web. This classic bake can be such a simple no-brainer but can also hold a depth that creates an entire baking species of its own.
In fact before searching for the cookie recipe, you should check out Buzzfeed's cookie guide.
we've baked over 400 cookies — testing every possible variable from dough temperature to sugar variety in an attempt to find the best possible formula.
They describe almost every characteristic in a chocolate chip cookie and evaluate the factors of each element. It is a great reference to decide which type of cookie you are going for : foodnetwork's cookie summary.
If the whole cookie dynasty confuses you (like me), we can go all out experimental! I decided to try buttermilkpantry's cookie recipe and added my own twist to it (based on what's available in my fridge).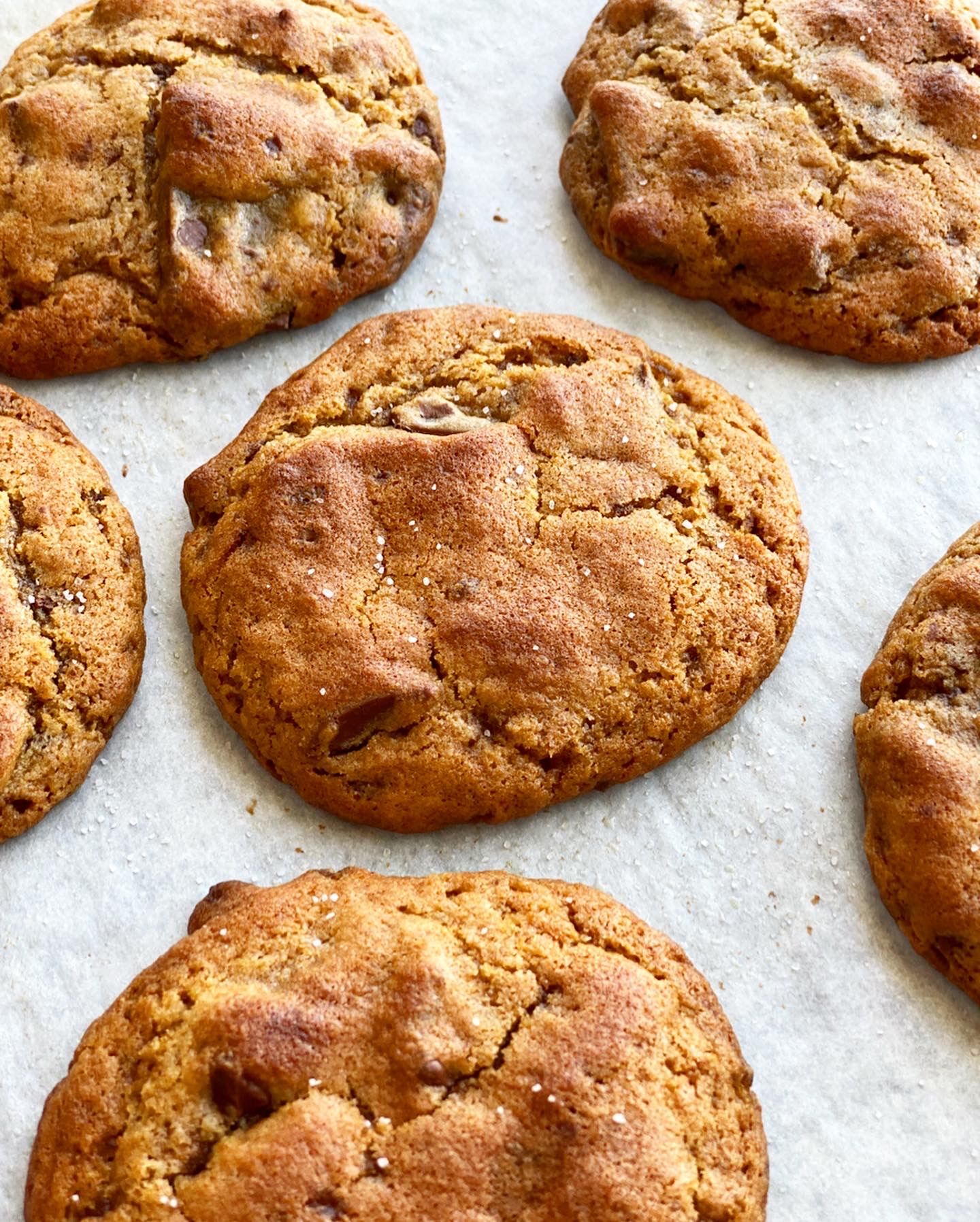 Ingredients (8-10 large cookies):
117.5g all purpose flour
1/2 tsp baking powder
1/4 tsp baking soda
7g white miso
70g unsalted butter
2 tsp condensed milk
70g light brown sugar
35g white sugar
1 egg, cold from the fridge
1tsp vanilla extract
100g 70% dark choc, chopped into chunks

Refrigerate the dough for 30 mins at least
Bake 180 °C for 10 mins

Steps:
1. Melt the butter in a pot at Low heat, keep stirring it so that it doesn't get burned or the oil gets separated.
2. Add the condensed milk and miso into the melted butter mixture and stir it till it turns caramel brown.
3. Let the butter cool at the side, keep stirring for a few mins as it will still be cooking from the heat for a while.
4. In a bowl, prepare the flour mixture by sifting in the all purpose flour, baking powder and baking Soda.
5. In another bowl, add and mix the brown and white sugar till combined.
6. Add in the brown butter mixture, egg and vanilla extract mix till combine and smooth.
7. Sift in the flour mixture and fold the dough till the flour can't be seen.
8. Add in the chocolate clunks and give the dough a few strong through folds.
9. Portion the dough into 8-10 scoops (ice cream scoops) or smaller balls (10-12) on a tray, refrigerate it for 30 mins at least (or overnight if you like - you will get a stronger textured cookie)
10. Preheat your oven to 180 °C in the meantime.
11. Make sure there is ample space between the cookie scoops as it will grow out by 25-50%. Bake it for 10mins, rotate the tray 5 mins into the baking time.
12. Lift up the cookie to check if the base is cooked and harden, if not leave it in the oven for another 5-10mins (without turning it on).
13. Now you get yummy cookies within 2 hours!
some important tips and feedback:
leave some chocolate behind to place on top of the cookie dough before baking.
make sure to rotate the tray and place it all on the same level to ensure even baking.
Highly recommend to consume the next day, keep the cookies in the fridge and give it a 3-5 mins toast before consumption to give the best yummy results (butter gives an enhanced flavour punch the next day).
Disclaimer: cookies are generally sinfully sweet! in comparison to most recipes out there, mine is on the less sweet side but it does affect the flavour, texture, spread, and colour of your cookies so do moderate accordingly.
I do taste the enhanced savoury flavour of the butter thanks to the miso addition. There is a slight milky taste from my condensed milk addition that melts perfectly when eaten with milk.
I will definitely explore more cookie types out there soon - like levain cookies , crinkled cookies etc.
In the meantime, hope i highlighted an outstanding cookie recipe to try! Check out my instagram for more visual and video snippets. Happy chocolate chip day! (apparently)
*** signing off with sparkles ***